The work to be performed in FuSuMaTech Phase 1 is distributed over 6 Workpackages, each of them being divided into tasks. According to the task definition, suitable deliverables are attached to the Workpackages. Milestones are defined for each workpackage and defined as the months due after project initiation. So M3 means the deliverable is due 3 months after project start. WP1 "Strategic decision making and Management" defines the role of the PCO (Project Coordinator) and PM (Project Manager) as well as the attributions of the General Assembly and Project Steering Committee of the 12 partners and of the Scientific and Technical Committee.
Based on the fundamentals of WP2, WP3 is tracing the roadmap of FuSuMaTech Phase 1 based on at least ten actions of Generic R&D&I and technology demonstrators to be developed in the following 5 or 10 years. The analysis of the "state of the art" in WP2 should be considered as a way to go forward and prepare a big step forward in magnet technology thanks to the FuSuMaTech roadmapping developed in WP3.
WP4 Setting up Generic R&D&I actions and WP5 Setting up technology Pilots are the heart of the FuSuMaTech Phase 1 action as the concept and methodology of FuSuMaTech Phase 1 consist of taking advantage of the existing synergies to implement the win-win strategy by direct and concrete preparation of real "case studies". The 10 "case studies" will be validated at the beginning of the execution of FuSuMaTech Phase 1 and will rely on numerous mutual interactions between the consortium members.
Public engagement, Dissemination, exploitation, communication, and IP Management issues are, among others, the central topics of WP6. WP6 will produce the legal tools of IP management necessary to go further in the real implementation of R&D actions. The numerous interactions with the practical case studies addressed in WP4 and WP5 will dramatically help the elaboration of these legal tools.
The diagram below shows the relations between work packages. More details can be found below.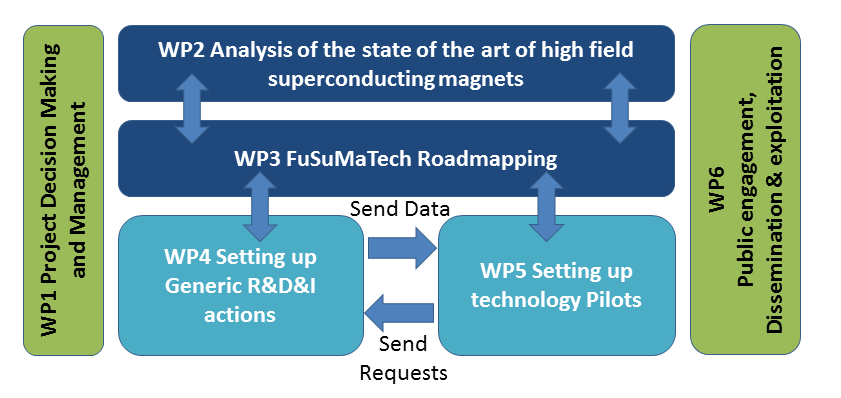 List of Work Packages